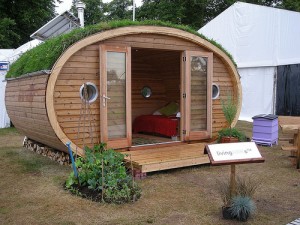 No, not quite like the picture, yet…
The size of new homes has been shrinking, in part for financial reasons.  Currently single family homes average 2,400 square feet, down slightly from 2,521 five years ago. Members of the National Association of Home Builders predict that by 2015, the average new home size will be down to 2,150 with no living room. No living room is not a surprise… if you have one, how often do you use it?
Less demand for:
Other features likely to be less in demand include mudrooms (surprising), formal dining rooms, sunrooms and three season rooms, skylights, media rooms, butler's pantries and more than 3 or 4 bedrooms.
More demand for:
The builders surveyed predict that these would remain popular or become more popular: ceiling fans, larger laundry rooms, 2 car garages over 3 car, eat-in kitchens and first floor master suites.
68% of builders say that energy efficient appliances, LED lighting and water saving plumbing features such as tankless water heaters will be common.
If you are considering making upgrades to your home, this information may provide you with some guidance on what is expected to be popular in the future. Energy efficiency will continue to be a hot topic good for the environment as well as the pocketbook.
If your home has become too large for you or you want to take advantage of today's real estate market to get into a newer home, please search firstweber.com for real estate for sale in Wisconsin.   We've also got a section on firstweber.com called First Weber's Builder's Marketplace which features the many homebuilders First Weber works with.
Thank you for reading the First Weber Wisconsin real estate & Wisconsin living blog for information on the home of the future.  Original article from the Chicago Tribune.
photo credit http://www.flickr.com/photos/clanlife/4848977022/