At First Weber's annual statewide retreat in the Wisconsin Dells, approximately 500 agents and managers got together to learn from national speakers and learn from each other through breakout panels and networking. It was a wonderful event and gave everyone who attended much energy to jump into 2012.  One of the main events during the retreat was the recognition of the sales offices which support the First Weber Foundation by percentage of participation and also the presentation of "Pride of the Foundation awards".  Today, we'll list the office participation awards and feature the "Pride of the Foundation" winners next week.
First Weber Foundation Office Participation Awards
The ability to support the First Weber Foundation through a financial donation from every closed real estate transaction or every pay check is optional and available to all First Weber Group agents, employees and owners.  We'd like to recognize offices based on their level of enrollment in the Foundation giving program.
Platinum
Offices with 100% office participation in giving to the First Weber Foundation:
Appleton, Beaver Dam, Dodgeville, Merrill, Oshkosh, Pardeeville, Monroe (new office just opened), Eagle River, Marshfield, Mauston, Spring Green and Wautoma
Gold
Offices with 90% of the office members participating in giving to the First Weber Foundation:
Janesville, Prairie du Sac, Tomah, West Towne.
Silver
Offices with 80% office participation in the First Weber Foundation:
East Madison, Metro West, Portage, Wisconsin Dells and Wisconsin Rapids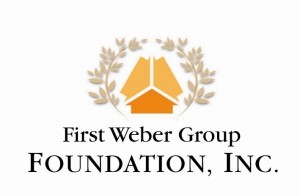 Great job, everyone.  The dollars you donate from your paychecks and commission checks enable the Foundation to support many housing related charities across Wisconsin and provide matching monies for individual matching gift requests and group giving fundraisers. Together we can do so much good.  Thank you for making First Weber Group proud. For more on the First Weber Foundation, please visit our First Weber Foundation page on firstweber.com or our First Weber Foundation blog category to see all the Foundation has done for our Wisconsin communities. For Wisconsin real estate, please see firstweber.com and thank you for reading the First Weber Wisconsin real estate & Wisconsin living blog.