Ice Fishing is a unique sport. Either you love it or would never think of  sitting in a shack on the ice for hours.  This is just a reminder to those who brave the ice for winter fishing that we have had a winter that has been mild.  This report shows Wisconsin's January as being "much warmer than usual" and that means the possibility of thin ice.
http://usnews.msnbc.msn.com/_news/2012/02/07/10341078-was-january-warmest-on-record-in-us-the-answer-is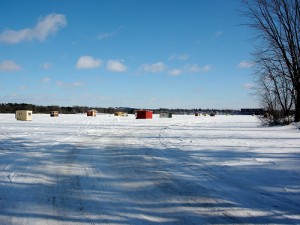 Be safe, have fun!
Thanks for stopping by The First Weber Wisconsin real estate & Wisconsin living blog for Wisconsin photo Friday.  If you want to live in our beautiful state, please search Wisconsin real estate for sale at firstweber.com.
photo credit http://www.flickr.com/photos/irishfireside/3197315115/ with CC license http://creativecommons.org/licenses/by/2.0/deed.en