To celebrate a successful 2011, First Weber's Fitchburg office decided to raise funds for Porchlight, a non-profit charity that helps the homeless and less fortunate in the Dane County area, including Veterans who have housing issues. The First Weber Foundation matched the collected amount from the Fitchburg office. $1990.00 was donated in total. That money will go far! Good job!  (In the photo from left to right are: Paul Brown, Fitchburg Office Mgr; Lisa Mohar, Associate Vice President First Weber; Ellen Roche, Associate Vice President First Weber; Steve Schooler, Executive Director of Porchlight; and Diane Balweg, Member of the Board of Directors for Porchlight)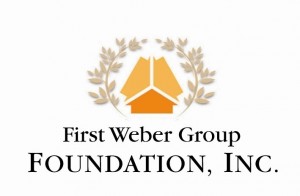 The First Weber Foundation is a public, charitable foundation established to strengthen Wisconsin Communities all across the state through both charitable contributions and volunteer leadership.  It is funded by agents, owners and employees of First Weber. For more on the First Weber Foundation, please see the First Weber Foundation page or read other First Weber Foundation posts.
Thank you for reading the First Weber Wisconsin real estate & Wisconsin living blog. If you liked this post, please share with the social buttons below.  For more information about Wisconsin real estate, please contact First Weber.