Convenient location
Brookfield, located in eastern Waukesha County, has a population of around 40,000. Distance to downtown Milwaukee is just over ten  miles and Milwaukee's Mitchell International Airport is less than a half an hour drive away. With this convenient location, Brookfield, Wisconsin is a popular community.
.
Shopping, Arts, Business
Brookfield offers quality of living with spacious lots, well maintained homes and numerous employment opportunities as a major business, commerce and retail hub in Southeastern WI.  Some community amenities include Wirth Park aquatic center, Able Ice skating arena, Fox Brook Park swimming beach, the Sharon Lynn Wilson art center and excellent shopping around main thoroughfare, Bluenound Road. Elmbrook school district serves Brookfield and is consistently ranked in the top school districts of Wisconsin.
Brookfield also offers an excellent Farmer's Market with once a month crafts as well.  This is held near the Brookfield public libary and Brookfield Central High school, one of its 2 public high schools.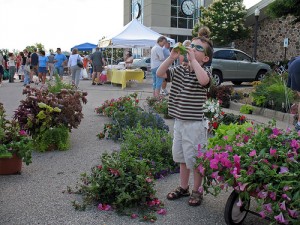 Here are a few links to check out for more on Brookfield, WI living.
http://www.elmbrookschools.org/
http://www.ci.brookfield.wi.us/index.aspx?nid=109
Thanks for reading the First Weber Wisconsin real estate & Wisconsin living blog for information about living in Brookfield, WI.
To see  real estate for sale in Brookfield, please search firstweber.com. Currently, there are almost 300 3+ bedrooms homes for sale in Brookfield priced from around $100,000 to over 2 million. Quite the range!
Also previously profiled:
photo credit https://picasaweb.google.com/lh/view?imglic=creative_commons&psc=G&uname=105097823343080621584&q=Brookfield+WI&filter=1#5127529370375133186