Sold Property data at firstweber.com
Maybe you are thinking of moving and wondering what your house should be priced at. Maybe you are just curious to see what that home sold for across the street.  Or,  maybe you are house hunting and want to get a handle on what homes are selling for in the area you are searching. Whatever the reason, we offer data at firstweber.com that can help provide answers on what property has sold for in your area of Wisconsin.
Search by zip code or street name
You can search by zip code or street name and decide how far to go back in time, up to a year.  For South Central Wisconsin and Southeastern Wisconsin real estate, the Multiple Listing Service SOLD data can be searched without a log in.  Simply start searching for sold property in South Central or Southeastern WI here. In other areas of the state, the access and data is still free and accessible, but MLS rules require a log in prior to gaining access.  It's easy that way, too. Just sign up for a free My First Weber Account and you'll be able to search the data.  By doing so myself I found out what the home across the street sold for… interesting information.
Was it a foreclosure or a short sale? Talk with a REALTOR about the sold prices you see for more information
So go ahead and dig in to see what's happening in your neighborhood. Remember that  foreclosures and short sales can certainly affect prices.  If you have questions about the sales prices in your neighborhood, please contact a First Weber Group Realtor for a detailed look at your neighborhood and the prices you find at firstweber.com. (If you are looking to buy a short sale or foreclosures in Wisconsin, firstweber.com offers the ability to search for those types of properties, too.)
More features of a My First Weber Account: here's some of what you can do and will see when you use your account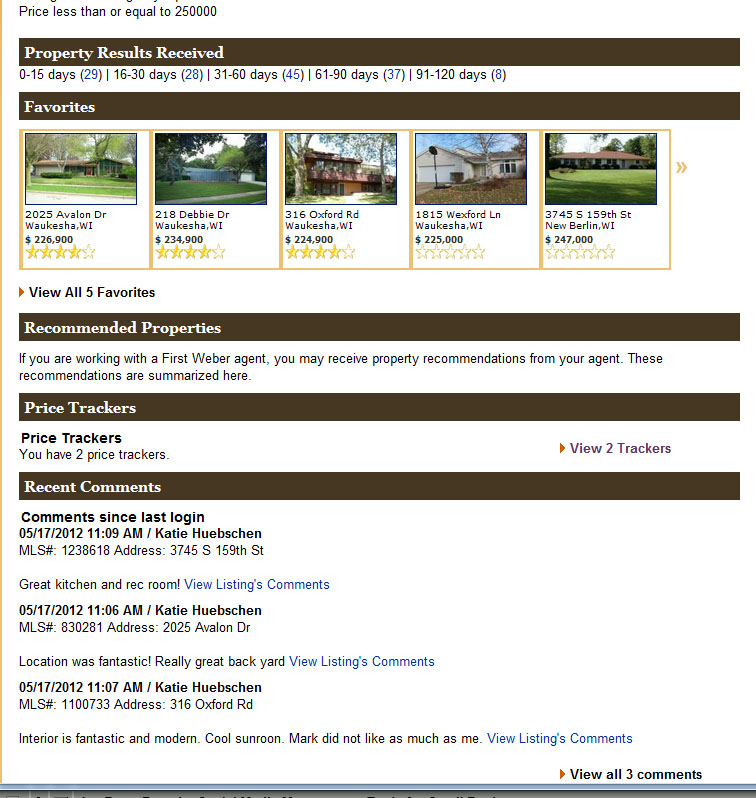 If you like having access to this type of data, you may also really enjoy some of the additional features of a My First Weber account like:
Ability to save favorites and save searches
Be notified via email on new listings, price changes and more on properties that match your criteria
Rate your favorite properties, create side-by-side comparisons, add or share comments, map a route around your favorites, showing points of interest around the property.
Set Price Trackers and get notified via email when a property's list price meets or drops below your target price.
Get detailed driving directions and a map from your registered address to your favorite properties.
We hope you sign up and enjoy the functionality! Thanks for reading the First Weber Wisconsin real estate & Wisconsin living blog for information on sold property data in Wisconsin and other helpful features of a My First Weber account. If we can be of assistance with your
Wisconsin real estate needs
, please
contact First Weber Group
.
photo credit http://www.flickr.com/photos/nikcname/4893848354/