2012 Wisconsin real estate sales ended the year on a high note, including land sales in Southwest Wisconsin. First Weber's Rural Property Pro, Jay Frazier, reports that total land sales in Southwest Wisconsin were up 12% in the fourth quarter of 2012 compared to the same time last year.  Iowa County led the way with over 1,000 acres changing hands between October 1st and December 31st, 2012. Price per acre dropped from $3892 in the third quarter to $3093 in Iowa County and let's take a look at other counties below.
Charts Courtesy of Jay Frazier's Southwest Wisconsin real estate blog, Scwmls and WiREex.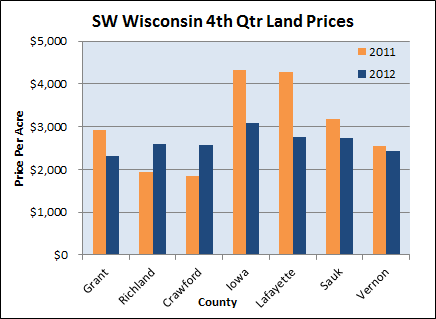 For a detailed breakdown by county in terms of number of sales, total acreage sold and price per acre see Jay's post on Southwest Wisconsin rural land sales. 
Thanks for visiting the First Weber Wisconsin real estate and Wisconsin living blog. To see real estate for sale anywhere in Wisconsin, please search firstweber.com