For quick real estate searching on the go, use our mobile website at m.firstweber.com or download our custom apps available for android and iPhone/iPad.
Quickly find homes throughout Wisconsin.
Filter by distance and price range.
Results include distance from your search location, price, beds and baths.
Review a property detail sheet and visit the same property on www.firstweber.com to view additional media.
Wisconsin real estate market data In addition to property details and multi media, you can access Wisconsin real estate market data such as the number of new listings in the area over a period of time and more.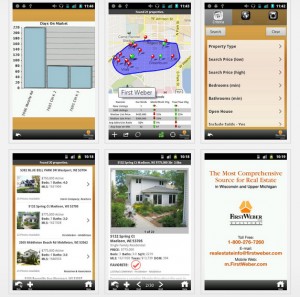 Please try our mobile website and download our apps for what we feel will be an excellent mobile real estate experience for you. Do not hesitate to contact First Weber with any comments or suggestions on these mobile products or our main website as well, firstweber.com. Thank you for reading the First Weber Wisconsin real estate & Wisconsin living blog for information on mobile apps to search for Wisconsin real estate. Download First Weber's  android app here or the First Weber  iPhone/iPad here.   For a full article on what the First Weber apps can do for you, please see this previous First Weber Wisconsin real estate app article.