A Culture  of Giving
Giving is a large part of the First Weber culture, as evidenced by the formation of the First Weber Foundation in 2005 which, since inception, has donated over $600,000 to a variety of Wisconsin charities.  Our offices get involved in a wide variety of charities and community service projects and here are just a few recent examples we'd like to share.
Souper Tuesdays for the Berlin Food Pantry
This spring, members of First Weber's Berlin office took turns making soup for lunch, calling their community service project "Souper Tuesdays". Each week, 2 people made soup and dessert and collected $5 from everyone. A cookbook sale also added to the total. To date, a total of $325.00 was raised to donate to the Berlin Food Pantry. That amount will be matched through the Feinstein Challenge. Alan Shawn Feinstein has pledged $1,000,000 to communities that raise money or collect canned foods from March 1st thru April 30th. There is a minimum of $250 and a maximum of $35,000 that can be collected thru his organization.
Attached is a photo of the check presentation.
From left to right: Billi Kaufman, Scott Bauer, Reverend Jo Ann Schoblaski, Gi Hietpas, Susan Hietpas, Jan Ewald, Jeanne Fitzgerald, Sheri Irish, Pat Bartol
Nice job, Berlin gang!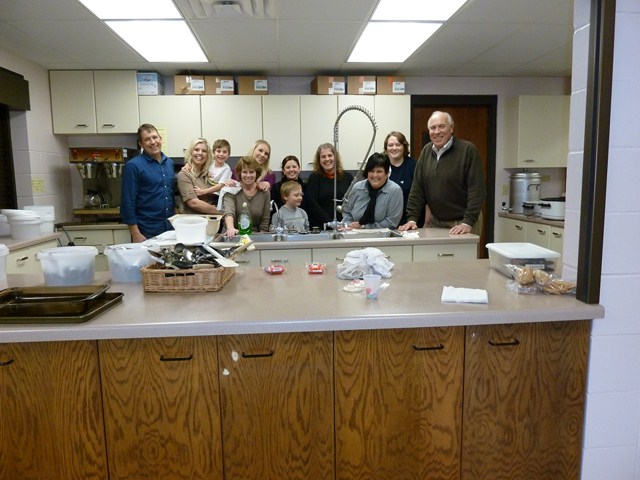 Volunteering at the Samaritan House of Marshfield
The entire Marshfield office recently volunteered at the Samaritan House of Marshfield's weekly dinner for the less fortunate. Provided were desserts, juice and milk and the office also assisted in preparing, serving and cleaning up after the meal. Everyone enjoyed the experience so much they are planning on going back at least once per quarter.
First Weber Group believes it is important to get involved in local causes to make a difference, get to know people and simply help out.  We hope you enjoyed learning just a little about First Weber agents doing good deeds. When you need a Wisconsin real estate broker, why not work with one who is involved in the community.  Thanks for reading the First Weber Wisconsin real estate & Wisconsin living blog. If you have real estate questions or needs, please contact First Weber. There's bound to be a First Weber office near you.