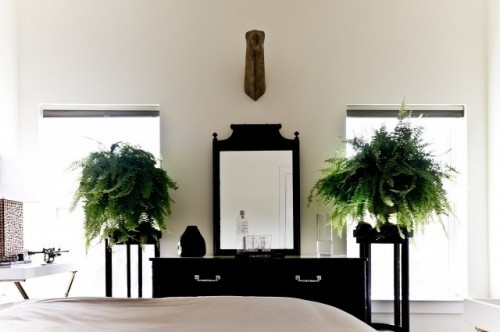 The Power of Greenery
Cleaning and preparing your homes for showing is very important. We realize it can be difficult to keep a home in show-ready condition, but it is an effort you must keep up.  In addition to clean and tidy, your home should be welcoming.  You may have heard of the baking cookies or bread smells, burning a candle or putting out fresh flowers.  Those all work and do make a home feel welcoming.  Another thing to consider is greenery and plants.  Well placed and well cared for plants can add a lot to a room.  Take a look at these gorgeous pictures of ferns in the home and see if you get any ideas.
Bathrooms on a budget
Little things can make a big difference. When looking into getting your home for sale, fresh paint is always a good bet.  See how some of the paint choices in this Houzz post make a big statement.  Also, you can create an updated look with simple things such as a new mirror, light fixture, faucet and draw pulls.  You can create a new look without a total makeover. These ideas may be useful to you when preparing your home for sale.  The same concept can be applied to kitchens, too.
Thanks for reading the First Weber Wisconsin real estate & Wisconsin living blog for this week's around the house tips.  We hope you found them useful for either preparing your home for sale or just making your home a more enjoyable place to be.  If a new home in Wisconsin is in your future, please search Wisconsin real estate at firstweber.com
First Weber sells real estate throughout Wisconsin: Metro Milwaukee and Southeastern WI, South Central Wisconsin, Southwest Wisconsin, Central Wisconsin, Northeast Wisconsin and Wisconsin's great Northwoods.
http://www.flickr.com/photos/dougtone/3500751310/
http://www.houzz.com/ideabooks/1561903?utm_source=Houzz&utm_campaign=u67&utm_medium=email&utm_content=gallery12