Did you know you can get detailed market reports of communities and point of interests around a property at firstweber.com?  For example, let's say you found 3 homes you love, yet are undecided on the community. Any of them would work for you, but how is the real estate market looking in them?
Maybe you'd prefer to buy in the community with statistics showing growth.
Maybe you want to be near parks and shops or places of worship.
Of course, your First Weber real estate agent can provide local information – but you can actually get this information yourself at firstweber.com if you do not have an agent yet. Looking for a Wisconsin real estate agent? Find one here.
All properties on firstweber.com come with a link to local real estate statistics, points of interest and schools.
Where do I find this?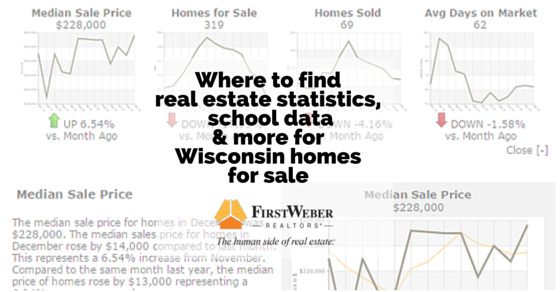 When you are on a property page, scroll down until you see the three tabs below. You can click into them for valuable data on the market, on nearby points of interest like restaurants and retail, (icons showing in image below) and you can also get school data.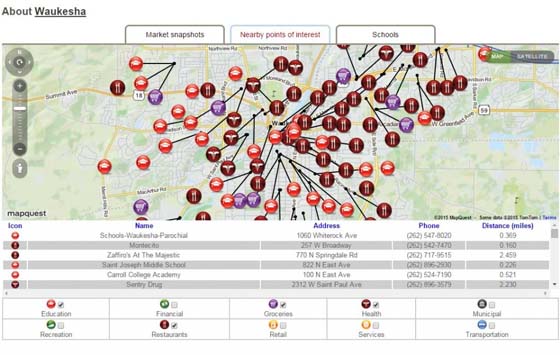 You can also learn more about hundreds of Wisconsin communities in our community section
Thanks for reading the First Weber Wisconsin real estate & Wisconsin living blog for information on how to get real estate statistics for properties for sale in Wisconsin at firstweber.com.
First Weber sells real estate throughout Wisconsin: Metro Milwaukee and Southeastern WI, South Central Wisconsin, Southwest Wisconsin, Central Wisconsin, Northeast Wisconsin and Wisconsin's great Northwoods. You can start searching for Wisconsin real estate and Wisconsin real estate agents at firstweber.com
If you liked this post,  please share.