6 Tips for Choosing a Neighborhood
Buying the perfect home is so much more than finding a great floorplan or spacious yard; one of the biggest influences on the quality of life is the neighborhood in which the home is located. Choosing the best neighborhood for you and your family can affect your lifestyle in many different ways.
Here are 6 important tips for identifying and choosing the right neighborhood for you and your family.
1. Know Your Budget – Prices can vary drastically within a few miles based on the community.
2. Research the Local Schools – Even if you do not currently have school-aged children, schools affect property values more than any other single influence.
3. Remember your Lifestyle – Choose a neighborhood which allows you the kind of lifestyle which suits you. Would you like an urban feel or perhaps easy access to hiking or boating?
4. Check out Amenities – Ask about the community amenities: gym, pool, sports courts, parks, etc.
5. Study the Market – Ask your agent about the property values and growth.
6. Remember your Commute – A lovely rural community might be relaxing, but remember you need to get to your job as well.
Every property on FirstWeber.com includes community information.
Scroll all the way down to the bottom of the page and you can choose to view what is important to you.
Proximity to schools?
Retail nearby?
Neighborhood parks?
Places of worship?
You can find out all that data at FirstWeber.com!
See example below: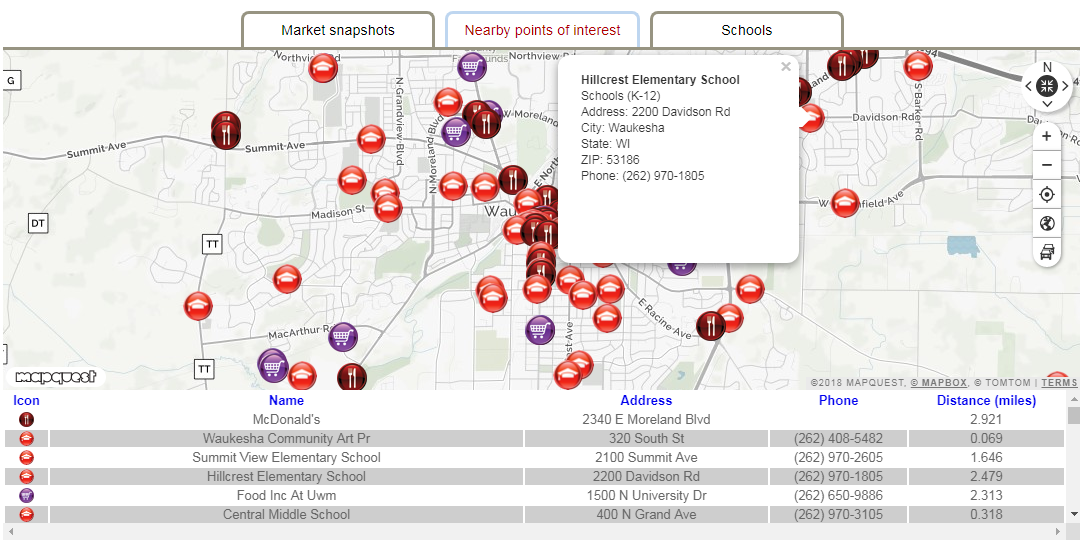 First Weber sells real estate throughout Wisconsin: Metro Milwaukee and Southeastern WI, South Central Wisconsin/Greater Madison, Southwest Wisconsin, Western WI, Central Wisconsin, Northeast Wisconsin and Wisconsin's great Northwoods. You can start searching for Wisconsin real estate and Wisconsin real estate agents at firstweber.com