Wisconsin is a wonderland of varied landscapes, thousands of lakes and tourist destinations focused on nature.  Explore Wisconsin's 7 natural wonders and make some plans! Warmer weather is on the way.

1. The Apostle Islands National Lakeshore in Bayfield, WI
This stunning Wisconsin wonder and National Lakeshore is a collection of 21 rugged islands in Lake Superior with miles of pristine lakeshore-beautiful in all seasons. Explore sea caves, walk old growth forests and gorgeous beaches.  Take in nature by camping or scuba diving shipwrecks.  Though beautiful from the mainland, it is recommended you see the islands up close. You can get there via kayak, sail boat, motor boat or guided tour boat.

2. Big Manitou Falls, Superior, WI
Located in Pattison State Park, Big Manitou Falls is a 165 foot waterfall, the fourth tallest waterfall east of the Rocky Mountains.  There's camping and hiking, a Little Manitou Falls and interesting geology including rocks created from ancient lava flows.  Find out more at the Park website.

3. Cave of the Mounds National Landmark, Blue Mounds, WI
This enormous cave system formed more than a million years ago from acidic water and a rushing underground stream.  Amazingly beautiful Calcite crystals are on the walls, ceiling and floor. The Cave is a cool 50 degrees every day. Discovered accidentally in 1939 when blasting was done in the area, you can discover it for yourself with a guided tour. See the Cave of the Mounds website for more.

4. Devil's Lake State Park, Baraboo, WI
A spring fed 360 acre lake, 500 foor bluffs and 30 miles of hiking trails make up Devil's Lake State Park, Wisconsin's most-visited State Park.  Devil's Lake is beautiful and centrally located in Wisconsin – making an easy drive for many.  More on Devil's Lake here and here. Both Blue Mounds and Baraboo are located in South Central Wisconsin.

5. Eagle River/Three Lakes Chain O'Lakes, Northwoods Wisconsin
This Chain O'Lakes spans Vilas and Oneida counties in Wisconsin's Northwoods. It is the largest chain of lakes in the world. If living on one lake in Wisconsin seems great, how about having access to 28 interconnected lakes? That is the Eagle River/Three Lakes Chain O'Lakes.  Rent a cabin for a summer or fall visit to experience this unique kind of lake living. Stay in the winter to experience winter in the "Snowmobile Capital of the World." And if you want to stay in a place of your own, First Weber sells real estate on the Eagle River/Three Lakes chain – as well as all over Northern Wisconsin.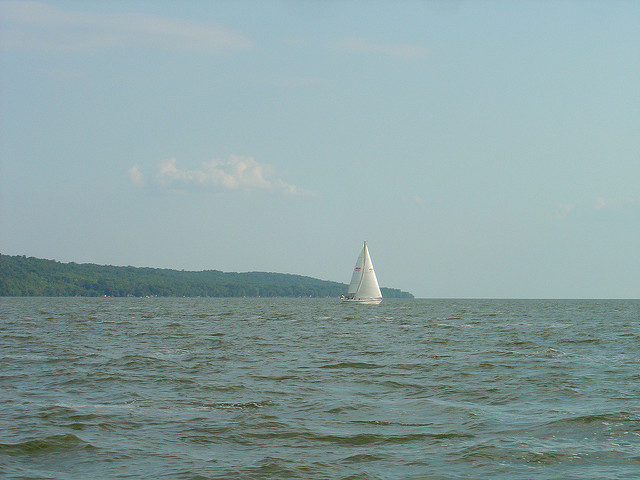 6. High Cliff State Park and the Niagara Escarpment on the eastern shore of Lake Winnebago
Lake Winnebago is Wisconsin's largest lake and High Cliff State Park is the only state-owned recreational property on the lake. This is no ordinary cliff- it is the Niagara Escarpment which is a 440 million year old cliff that begins in Wisconsin and extends to Niagara Falls. The cliff is visible in the lower half of the park which also offers camping and swimming.

7. Horicon Marsh, Horicon, WI
Horicon Marsh is the largestfreshwaterr cattail marsh in the country. Best known as a migratory stop for flocks of Canadian Geese, there are also more than 290 species of birds here so bring the binoculars.
First Weber sells real estate throughout Wisconsin: Metro Milwaukee and Southeastern WI, South Central Wisconsin/Greater Madison, Central Wisconsin, Southwest WI, Western WI, parts of MN, Michigan's U.P., Northeast Wisconsin and Wisconsin's great Northwoods. You can start searching for Wisconsin real estate and Wisconsin real estate agents at firstweber.com
Thanks for reading the First Weber Wisconsin real estate & Wisconsin living blog.