Life in New Berlin: a snapshot
The City of New Berlin is just 50 years young, although New Berlin was established years ago and we'll give you a bit of history later in the post.  With a population of about 39,000 and open fields like the one pictured above,  New Berlin has maintained a mix of country living and city living. New Berlin's 599 area businesses employ approximately 13,000 people. There are over 800 acres of parks, conservancy areas and golf courses.  New Berlin community events included holiday parades and 4th of July celebrations, summer music and movies in the park, and cross country skiing in the winter. The city of New Berlin is not a "suburb", it is a great city to live, work and play and is located in Eastern Waukesha County.
Housing styles and price ranges in New Berlin
Single family homes range from affordable (160K) to high end (400K and up), with newer subdivisions and well established, older subdivisions. New Berlin has "50's style ranches, colonials and large two story colonials.  All types of housing needs are met in New Berlin: Apartment complexes for families and senior apartments are available and condominium complexes too ranging from very affordable to luxurious and spacious.   New Berlin has a few working farms left, too. Search for currenetly available New Berlin real estate at firstweber.com
Five Favorite things to do:
– Read and relax at the City of New Berlin public library.
– Play golf at the par 3, disc golf and 18 hole courses.
– Attend band and orchestra concerts and plays at New Berlin's two high schools
– Enjoy a great meal: Italian, Mexican and Chinese cuisine restaurants, places for a good steak, fast food and everything in between in can be found in New Berlin.
– Attend a movie at the Ridge Cinema.
History of New Berlin
New Berlin's historical roots go back to 1836 when the first pioneers arrived to settle the area.  What eventually became New Berlin originally consisted of a number of scattered hamlets:
New Berlin Center –a commerce hub located along National Ave between Sunnyslope Road and Lawnsdale Rd.  It is still the "center" of our city and offers a great variety of stores.
Conrad Park-located in the 124thSt.and Greenfield Ave. area.  It is where the city's first subdivision was created in 1913.  The first home in the area was built in 1868.
Calhoun Farms – The arrival of the railroad in 1882 at Calhoun Rd. south of Greenfield Ave. truly made this the busiest center New Berlin has ever seen. It is now home to Calhoun Farms Subdivision.
Kelly Lakes—this southeast corner of the city, bounded by Beloit & Small Rds. and College & Grange Ave., was where the early Irish immigrants settled.  It is also home to the only natural lakes in New Berlin.
Coffee Street—so named because of all the bubbling coffee pots on the stoves of the local German settlers.
Prospect Hill—This area is currently the home of the city's extensive Historic Park. It was once the bustling hamlet of the earliest Yankee settlers and the boyhood home of Julius Heil, entrepreneur and former governor of Wisconsin.  This area is located where Racine and National Avenues cross – two former Indian trails that are now used daily by millions of commuters.
Linnie Lac Mill District – this small lake provided water power for the first sawmill in Waukesha County built in 1836 and later flour and grist mills.  There is still a dam there and you can find it by taking College Ave. just a short distance east of Racine Ave.
New Berlin has a very active Historical Society and Landmarks Commission who work together to foster civic pride by safeguarding our city's historic and cultural heritage. To access information on both of these entities, please see the New Berlin Historical Society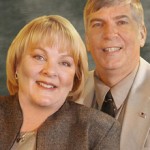 Written by Sherry Kampa, shown here with husband Jerry,  and Sue Hemmen.  Sherry and Sue serve on the New Berlin Landmarks committee.
Photo credit http://www.flickr.com/photos/9314048@N08/2955912753/sizes/m/in/photostream/ and Sherry Kampa.
New Berlin is a wonderful mix of commerce and peace & quiet all within easy commute to downtown Milwaukee.  If New Berlin sounds appealing to you, please search firstweber.com to see what is for sale in New Berlin. Thank you for reading the First Weber Wisconsin real estate & Wisconsin living blog for a snapshot on the community of New Berlin.