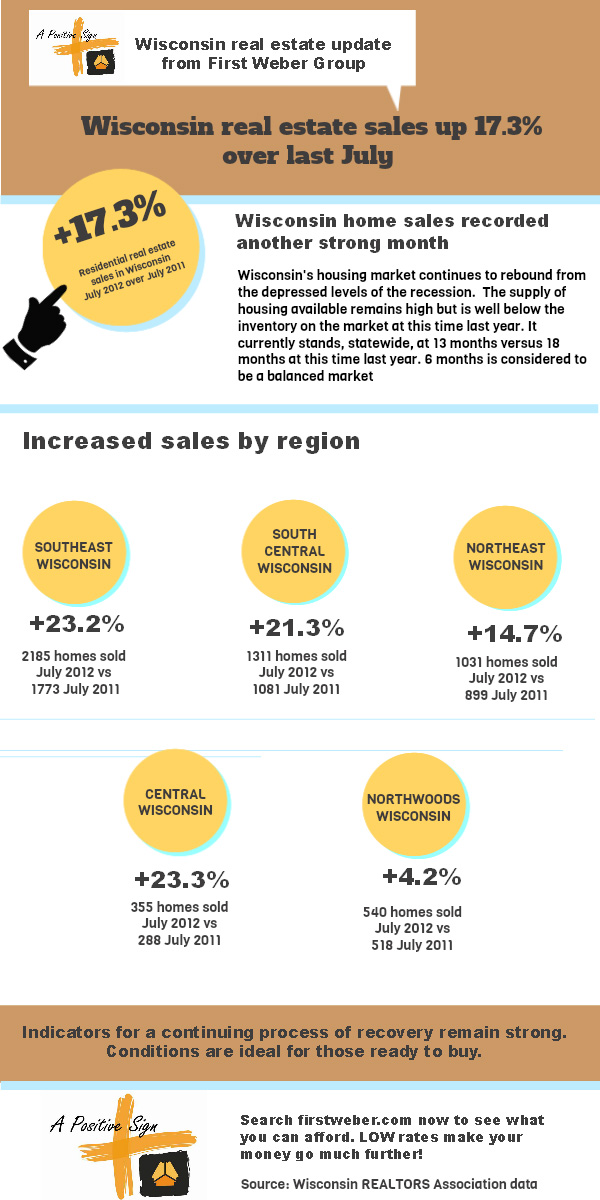 photo credit http://www.flickr.com/photos/scjn/5423307327/
"While the pace of the national economic recovery has been weak this year, Wisconsin home sales have rebounded nicely over the past year," said Rob Keefe, Chairman of the WRA board of directors.  Wisconsin home sales are currently outpacing the nation. NAR is reporting second quarter growth nationwide to be 8.6% and Wisconsin's second quarter sales compared to last year's second quarter are up 21%.
Prices are stable.
Down slightly in South Central Wisconsin and North east Wisconsin.  Northern Wisconsin posted a price gain of almost 9% compared to last July. This could reflect that buyers have recognized the incredible opportunity to purchase higher end vacation homes with low-cost money now.
If you would like to see what real estate is available in your price range, please do a search for Wisconsin real estate at firstweber.com. You can search Wisconsin by map or with our form fields on the home page, including being able to search for a specific text phrase. Listings with the feature or phrase in the listing data can then be returned in your results.
A convenient feature: My First Weber
If you would like to save favorite properties, make comments on them for reference and get automatic emails on properties matching you search criteria, a free My First Weber account is for you. Try it out and thank you for visiting the First Weber Wisconsin real estate & Wisconsin living blog for an update on the Wisconsin real estate market.