The 20th annual United Way of Dane County Days of Caring event was held last week with over 3,000 volunteers working at various agencies. First Weber Group participated with 5 teams and 18 volunteers.  Thank you to the following:
·Schumacher Farm Park, Waunakee: pulling weeds provided by Jim Ableidinger and Mike Hotlen (East Madison) and Kim, Samuel, and Jacob Moermond (Corp. Ctr.) along with volunteers from Kennedy Communications, American Girl, and GE.
· Community Action Coalition for South Central WI: painting provided by Debra Imhoff, Meghan Moran, and Kathi Wacek (Corp. Ctr.).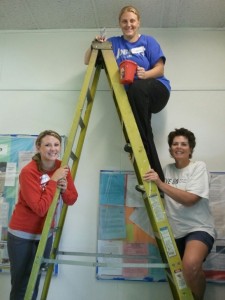 · DeForest Area Community and SeniorCenter:  volunteer list phone calls provided by Christine & JT Harper (Sun Prairie).
· Porchlight, Inc.: renovation of a family yard on Fisher St. in Madison including landscaping and stone pavers provided by Monika Ramsey, Pat Sternad, BJ Wagner, Tom Weber, and Melinda Zellmer.
· North/Eastside Senior Coalition:  window washing, lawn mowing, furniture moving, and light cleaning for a senior named Fran provided by Pat Knuth, Jessica Wegmuller, and Heather Zoerb (Corp. Ctr.).
Also, a big thank you also goes to Mike & Sherry Lessing (Middleton), Mary Parish (WT), and Julie Teter (Middleton) and one anonymous donor for donating school supplies for the donation drive!
Thanks for making a difference in our communities!  – [Kathy Konichek]
For additional community service projects First Weber is involved in, often through the First Weber Foundation, please see the Foundation category on this blog.  Thanks for reading and if you need assistance, please contact First Weber. You can search for Wisconsin real estate for sale at firstweber.com if you are looking for a Wisconsin real estate broker.