The League of American Bicyclists has released its 2012 list of bicycle-friendly communities where city leaders have developed bike lanes, placed bike racks in urban locations and developed safe-riding education programs for bicyclists of all ages.
To qualify, cities also must have adopted policies to encourage biking to work or school in an effort to improve sustainability and reduce road congestion.
Only three cities made the organization's Platinum List: Boulder, Colo., Davis, Calif., and Portland, Ore.
Sixteen cities made the Gold List and dozens more made the silver and bronze lists. The complete list of cities is here, and those receiving honorable mention, here.
GOLD: Madison, WI
Madison, Wisconsin received a gold award – one of just 16 across the country. They have a website: BikeMadison.com.  Here is a map/pdf of Madison's many bike paths. 
Madison even has a bike-share program!
SILVER: LaCrosse
BRONZE: Eau Claire, Fitchburg,  Milwaukee, Sheboygan County, Shorewood and  River Falls.
Click into the city names above to visit their biking information.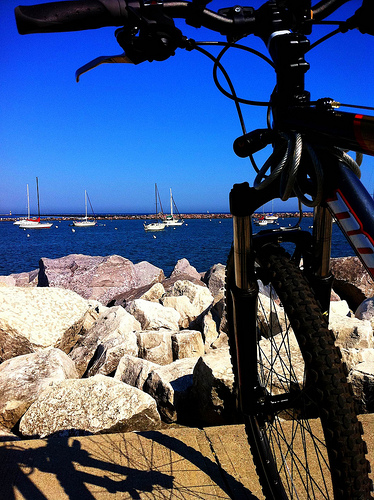 Do you want to live in a bike friendly community?
Take a look at real estate for sale in Madison, Milwaukee, Fitchburg, Shorewood and more at firstweber.com.
Thanks for reading the First Weber Wisconsin real estate & Wisconsin living blog for information on bike-friendly cities in Wisconsin: Madison tops the list with a gold award and a bike-share program.
photo credit http://www.flickr.com/photos/turkeybot/5940227080/
http://www.flickr.com/photos/tomhenrich/6579255929/