Hi!  My name is Bailey and I want to share with you how much fun I had at First Weber Group's Fourth Annual "Take Your Dog to Work Day" on June 21st.  My Realtor friends had contests, prizes, a parade, and even a Hot Dog Lunch all to raise money so I can have a roof over my head until I find my "forever" home.   Lots of other dogs (and even a couple of cats!) were there and together my new friends raised $4,000 for HAWS!
~ Bailey is a 3 month old, Pit Bull mix who is available for adoption ~
To meet Bailey, or learn more about adopting a wonderful pet like her from HAWS, visit their website.
* * * * * * * * * * * * * * * * * * * * * * * * * * * * * * * *
Thanks to all of our sponsors (see list below), participants, and organizers who helped to make our Fourth Annual "Take Your Dog to Work Day" a huge success, raising $2,000 for the Humane Animal Welfare Society of Waukesha County!  The First Weber Group Foundation matched these funds, for a total donation to HAWS of $4,000!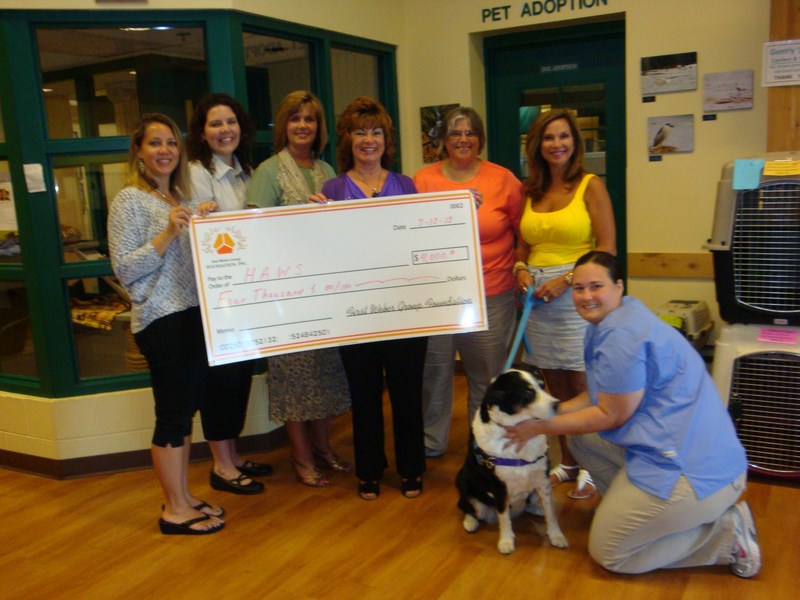 Participating in the presentation of the $4,000 check to HAWS were (pictured L-R): Amy Bay (of First Weber Group), Johanna Schmanski  (of HAWS), Roxanne Platz and Linda Johnson (of First Weber Group) Lynn Olenik) (of HAWS), Hilde Becker (of First Weber Group), Phoenix (available for adoption at HAWS), and Jessica Pinkos (of HAWS).
Please help us say "Thank You" by patronizing our sponsors:
Mark your calendars and plan to join us for our fifth year ~ June 20, 2014.  Contact us at 262-646-6800 if you would like to participate in any way!
Event organized & article provided by Roxanne Platz, Linda Johnson, Michaela Dwornik, Megan Sarnowski, Amy Bay and Hilde Becker of the First Weber Lake Country Office.